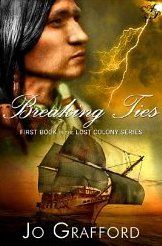 The tale of Rose Payne leaving behind everything she knows for the unknown in America was phenomenal! From the first chapter I was hooked and couldn't bear to put the book down. Intrigue, betrayal, and mystery plague the colonists aboard the three ships traveling to their new home. Just when you think you've figured out who is behind the problems another twist in the tale leaves you guessing yet again.
The attraction between Rose and the mysterious Manteo is very captivating! Each interaction between them leaves you wanting to know what will happen next. More than once Manteo comes to help Rose out of the bind she's in and shows her through his action what's in his heart. Though Rose isn't looking for love, it finds her.
I absolutely cannot wait to see what Jo Grafford writes next! I'll be looking for the second book in this series actively! As soon as it's available I'm buying it! This is a fantastic clean romance that was well thought out and written expertly! Jo definitely did her research for this novel.
Visit Jo Grafford's website.
Purchase Breaking Ties from Amazon.
Purchase Breaking Ties from Barnes and Noble.